LOADED OR UNLOADED CONTAINER TRANSPORTATION
R&A Container Lifting Service is a ground level pickup specialist. We lift and transport conex boxes, conex containers, and sea crates. Containers can be loaded from either the driver or passenger side, and our equipment can accommodate empty containers or loaded containers. We are located in the San Francisco Bay Area, operating out of Oakland and serving Oakland, Stockton, Richmond and the San Francisco ports. Our side-loader trucks are also able to weigh containers in accordance to Safe of Life at Sea (SOLAS) guidelines. R&A Trucking and Container Lifting and Moving also offers intermodal services and logistical support to aide you in transporting containers via shipping as well as rail.
LOADED SHIPPING CONTAINER LIFTING
R&A Container Lifting and Moving services lift systems can provide a unique and effective service for Bay Area businesses. Our self-loading semi-trailers lift and place your loaded container at ground level or onto a truck for transport. With this system, the need for forklifts and/or cranes is eliminated. Side-loaders, also known as side-lifters or self-loading trailers, do not cause damage to the loading or unloading surfaces as can occur with traditional methods of sliding or dragging a container on and off of trucks. Also, we are able to avoid concrete cracks which generally occur when containers are dropped on the ground from a crane or fork lift use. Another added benefit is that loaded containers experience minimal shifting, preventing containers from tilting or dropping.
SHIPPING CONTAINER TRANSFER
Our container side-loading system allows quick and easy transfer of shipping containers on or off of trailers or chassis for easy loading/unloading of shipped contents. This is a great for business who need logistics for loading and unloading containers quickly and carefully from one mode of transport to another.
CONTAINER STACKING WITH SIDE-LIFTERS
Whether loaded or empty, our side-loading trucks make stacking containers quick and easy. Containers can be stacked 2 high, saving both space and time.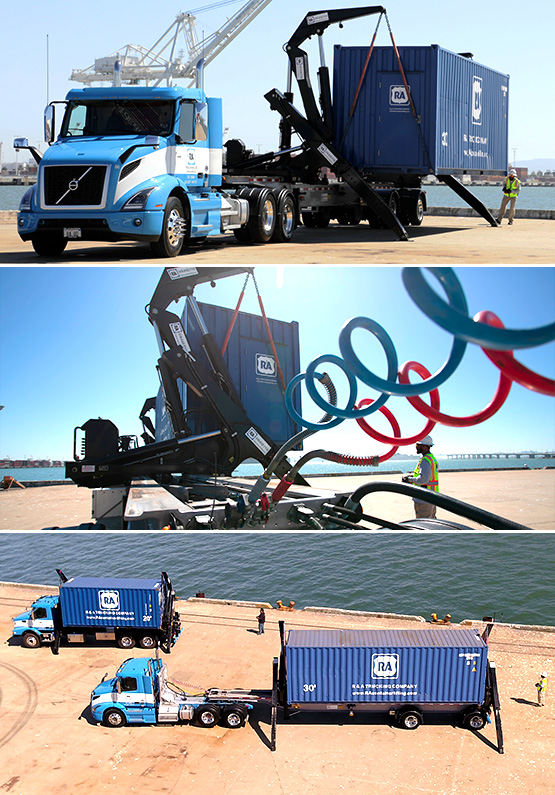 FACTS ABOUT CONTAINER LIFTING SERVICES
No forklifts or crane required
Level lifting process protects contents of loaded containers
70,000 lbs. Max Capacity
Significantly reduced potential for damage to ground surfaces